Trinity Prime
Trinity Prime - Solo Tridolon Capture
Show/Hide linked builds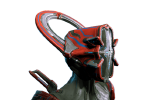 Aura Trinity Helmet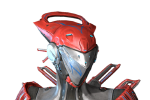 Meridian Trinity Helmet
Do you want to reset the current build and lose all the modifications ?
The build has been saved in the database. It is now available for all members if it is public, or by those who have the link if it is private.

Thank you for your contribution.
The build has been edited and saved in the database. The new version is now available for all members if it is public, or by those who have the link if it is private.

Thank you for your contribution.
Level >=
Orokin :
Formas :
This build is designed for one purpose which is the successful solo capture of all three eidolon variants (a.k.a. tridolon) during a night cycle in plains of eidolon. The guide below contains a detailed list of everything I use as well as my strategy / fighting tactics. And, I left a video link at the end showing one of my successful attempts with this setup.

===== Warframe Arcanes (max rank) =====

- Arcane Guardian (+600 armor for 20s)
----- 20% proc chance on damage received
- Arcane Avenger (+30% crit chance for 8s)
----- 14% proc chance on damage received

===== Weapons / Companion / Archwing =====

- See linked builds

===== Gear =====

- Archwing Launcher
- Decaying Dragon Key (-75% shields)
- Squad Energy Restore (Large)

===== Operator Arcanes (max rank) =====

- Magus Husk (+100 armor)
- Magus Replenish (20% health restore)
----- 100% proc chance on void dash

===== Amp =====

- Shwaak Prism
- Shraksun Scaffold
- Lohrin Brace

===== Amp Arcane (max rank) =====

- Virtuous Fury (+30% damage for 4s)
----- 20% proc chance on status effect

===== Primary Focus School =====

- Madurai
----- Phoenix Talons (unlock only)
---------- Phoenix Spirit (max rank)
---------- Void Radiance (unlock only)
--------------- Void Strike (max rank)
---------- Blazing Dash (unlock only)
--------------- Meteoric Dash (max rank)

===== Focus Waybound Abilities (max rank, unbound) =====

- Madurai
----- Inner Gaze
----- Eternal Gaze
- Vazarin
----- Enduring Tides
----- Rejuvenating Tides
- Unairu
----- Basilisk Scales
- Zenurik
----- Void Siphon
----- Void Flow

===== Strategy =====

Before I go into detail about how to fight the eidolons, there are several things which need to be touched on first:

1. Trinity's blessing ability is absolutely paramount for the success of this endeavor. During each fight, cast blessing and then keep re-casting it before the damage resistance buff runs out. This will be crucial for keeping trinity, the companion, and the lures alive.

2. Energy regeneration will be handled by simply taking health damage. Because of hunter adrenaline / rage, trinity should only need to lose 83 health before regaining a sufficient amount of energy to cast blessing. However, I have noticed that not all of the eidolon attacks seem to trigger the mod effect. In the event trinity doesn't have enough energy when needed, drop a squad energy restore.

3. Mark each eidolon after they spawn. Knowing where they're located and what distance they're at is invaluable.

4. Make sure to gather 8 lures before attacking the first eidolon. Have 7 of the 8 lures hold position and keep 1 following in order to charge it faster. Then, go back to the other 7 and command them to follow.

The opening attack sequence for each eidolon will be the same and it will only need to be done once:

- Equip the melee weapon so the hit counter is visible
- Strike the eidolon exactly 31 times with the melee weapon

Before I explain the logic behind this move, let me start by saying that I'm basing it on info from the warframe wiki (https://warframe.wikia.com/). So, using the data there, it is important to first identify some simple statistics which apply to each eidolon:

- Base Level = 1
- Health Type = Robotic
- Armor Type = Alloy
- Base Armor = 200

Also, the eidolons always spawn at the same level regardless of any active bounties:

- Teralyst - 50
- Gantulyst - 55
- Hydrolyst - 60

According to enemy level scaling, they will have 1107, 1276, and 1456 armor. Suffice it to say, that much armor will greatly lower weapon damage.

Now, going back to the opening attack sequence, why hit the eidolon with a melee weapon? The answer is the mod shattering impact. What it does is remove 6 base armor from the target per hit so long as the weapon deals any impact damage. Per the wiki, shattering impact shouldn't work on invulnerable enemies (grey healthbar). But, for reasons unknown, the mod does still work on the eidolon even while it's immune to damage. So, the simple formula for calculating the eidolon's new base armor after 31 hits looks like this:

200 - (31 * 6) = 14

With only 14 base armor left, the eidolons will now have 78, 89, and 102 armor. Technically, it should be possible to land 33 hits which would leave the base armor at 2. However, I've sometimes seen the armor disappear after only 32 / 33 hits but never at 31.

The reason why it's so important to leave some armor intact is to maximize weapon damage. The lanka / euphona prime are both modded for radiation. This type of damage deals +25% to robotic health and +75% to alloy armor. Furthermore, radiation ignores 75% of the current armor. Below is a formula from the wiki that shows how to properly calculate the damage modifier for radiation against robotic enemies with alloy armor (I rounded all decimal values to the 4th point):

- DM = Damage Modifier
- HM = Health Modifier
- AM = Armor Modifier
- AR = Current Armor

- ((1 + HM) * (1 + AM)) / (1 + (AR * ((1 - AM) / 300))) = DM

Here is what the formula looks like for the hydrolyst after lowering it's armor:

- ((1 + 0.25) * (1 + 0.75)) / (1 + (102 * ((1 - 0.75) / 300))) = 2.0163 (201.63%)

Assume that a weapon has a base damage of 1000 radiation per shot. Then, factor in the damage multiplier (1000 * 2.0163) and it will now inflict 2016.3 damage per shot which is a bonus of 101.63%. If the same formula were applied using the hydrolyst's starting armor value of 1456, the damage modifier would be 0.9883 (98.83%). The weapon would then only inflict 988.3 damage which would be a loss of 1.17%.

Another important point worth mentioning is that all of the eidolons have a certain percentage of damage resistance which is independent of their armor. It seems to be a fixed amount and all types of damage (operator included) are effected by it. I'm not sure what the actual percentage is but it's definitely there. As far as I can tell, it only seems to lower the base damage of all attacks.

Now back to the task at hand. Once the opening melee attacks are done, switch to the operator to begin taking down the eidolon's shield. The operator attack sequence is as follows:

- Stand by or under the eidolon's feet
- Look at the ground
- Go into void mode and spam void dash rapidly until energy is depleted
----- The +400 damage from Meteoric Dash is void damage and will help destroy
----- the shields. Also, magus replenish will fully heal your operator since it's
----- easily possible to get 22 - 25 void dashes off.
- Fire the shraksun scaffold into the eidolon 8 times to consume all of the void
- strike charges built up from the previous step
----- This scaffold is guaranteed to cause an impact proc and has a high status
----- chance as well. That should keep virtuous fury procing often. Also, the
----- explosion can hit multiple parts of the eidolon.

Repeat the process above until the shield has been destroyed. Then, try to take out one of the eidolon's weak points (synovia) ASAP. This helps lessen the chance that the eidolon will call on the vomvalysts to regenerate the shield. If that ability is used, though, take out the linked vomvalysts quickly and remove the shield again.

After each weak point is destroyed (except the last one), stay close to the eidolon until right before it begins emitting the magnetic pulses. Then, bullet jump at least 70 meters away and wait till the pulses completely disappear. The timing is crucial here because retreating too soon will disconnect the lures from the eidolon and it will teleport. That means searching the map for the new location and the eidolon regaining 75% shields instead of 50%.

When the last weak point is destroyed, go into void mode for as long as possible. This will build up a significant damage boost for the first 8 shots. Shortly after the eidolon stands back up and becomes vulnerable, try to finish it off ASAP. Even if it recovers full health (I suck at stopping the vomvalysts from healing it), the takedown should still go fairly quick.

===== Conclusion =====

All three eidolons can be solo captured with this build / approach. It requires a moderate effort but the timing is not too extreme. I've done it successfully with no deaths, only 1 lure lost, and 11 minutes left on the night cycle. Below is a link to the video of that specific run:

https://youtu.be/PfNke673_6Y
You are about to report a build as incorrect. Please select the reason in the drop-down menu below. The author of the build will receive an anonymous notification indicating the reason of the alert.
You must select a reason in the drop-down menu
The build has been reported as incorrect. It will be analyzed as soon as possible.
You've already reported this build. It will be analyzed as soon as possible.